Innodia

Participant Spotlight
Real life experiences
Nicholas
18th of November 2021 by Nicholas
Today Nicholas came to the hospital in Herlev, DK, for his final visit as an INNODIA participant. His son Noel has type 1 diabetes and when dad was offered to make a contribution to diabetes research in INNODIA to change the future for people with T1D, he immediately grabbed the opportunity and has been a diligent Unaffected Family Member ever since.
The INNODIA research have been a non-evasive part of the last 3 years of my everyday life. It has been fantastic to be a part of a project that has the potential of saving the lives of so many individuals.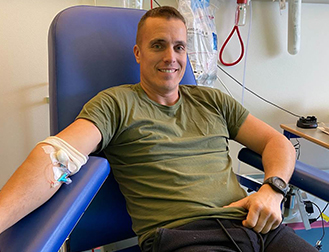 The research involved a four weekly test where I needed to provide a small drop of blood from the finger and a hospital trip every 6 months. The hospital trips were short. Only a 3 hour test. As a self-employed, I could easily take my work with me. It has been a small price to pay for the daily routine every person with T1D has to deal with around the world.

My son was diagnosed with T1D as a 13 year old, which left me with a feeling of hopelessness and not really being able to help. Now 5 years later this is one of the ways where I felt I could do my part, not only for my son, but as an important contribution to T1D research.