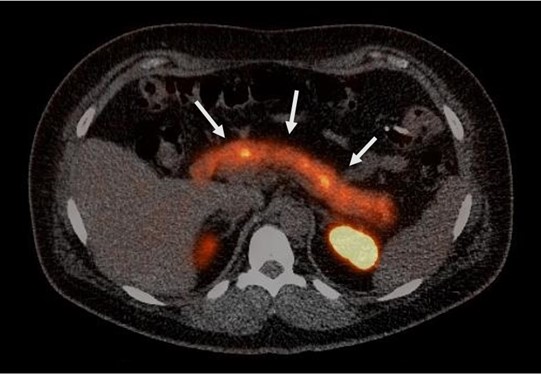 68 Ga-exendin-4 PET/CT image of the pancreas of a patient with type 1 diabetes (from an unrelated trial) showing uptake of the radiotracer in the pancreas (white arrows). Since radiolabeled exendin specifically binds to the glucagon-like peptide 1 receptor on the pancreatic beta cells, the amount of tracer uptake reflects the beta cell mass.
The first 2 patients have been included in the image-Ver-A-T1D trial so the trial has officially taken off! The purpose of the image-Ver-A-T1D trial is to examine the effect of Verapamil on the pancreatic beta cell mass. For this purpose, 30 participants of the Ver-A-T1D trial will be recruited to participate in image-Ver-A-T1D. Beta cell mass will be measured using PET/CT imaging with radiolabeled exendin (see figure), before the start of Verapamil treatment (or placebo) and after 1 year.

Imaging will be performed at 3 sites, Assistance Publique - Hôpitaux de Paris (AP-HP), the University of Vienna and Barts Health NHS Trust in London. The first 2 of these sites are now open for inclusion and first 2 patients have been included at AP-HP thanks to the hard work of Jean-Noel Talbot, PI at AP-HP and Roberto Mallone, PI at Inserm Paris, which is the Ver-A-T1D site at which these participants were recruited. After delays because of regulatory issues, we are very glad to have reached this milestone and hope to achieve the first recruitments at the other 2 sites soon.